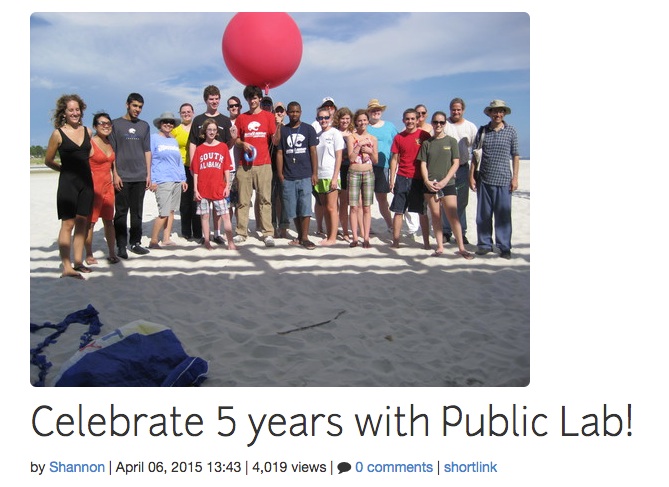 Through low-cost tools, Public Lab injects community knowledge into civic decision-making about local environmental issues. This community engagement also alleviates media blackouts and information shortfalls that can occur after a major environmental event.
"That's one of the essential tenets of Public Lab. It's about rethinking how people can become involved in the decisions that are being made about the places where they're living," says Shannon Dosemagen, CEO and a founder of Public Lab.
Public Lab was born from balloon mapping work during the 2010 BP oil spill in the Gulf Coast. Balloons and kites in the hands of community members provided low cost, easy to use transportation for cameras that took aerial images to create maps and provide data for the community's case on cleanup priorities.
"After the BP oil spill happened … there wasn't a lot of good or solid information that was coming from the spill. And, so I started using a crowd-sourcing platform and getting people to report what they were seeing or what they smelled or other changes in their environment. And then another project that I ended up working on during that time was with the aerial mapping kit that Public Lab is pretty well known for," Dosemagen says.
This work earned Public Lab $500,000 in the 2011 Knight News Challenge and in 2013, they were awarded $350,000 in the Knight News Challenge for Health to build a suite of pollution detection tools.
Today five years after its founding, Public Lab says it is an "open community supported by a non-profit" that creates low-cost tools that everyday people can use to create information that residents need about the places where they live. The data collection methods for researching environmental impact typically cost less than $150. The group's website lists 22 low-cost technologies and more are being developed every day. Public Lab's map archive includes 326 citizen-made maps from around the world and some are included in Google maps.
The Public Lab non-profit has staff offices in five states with 62 organizers, who Dosemagen describes as "super volunteers." The super volunteers integrate Public Lab methods or tools with the work they're doing and the organizations they're working with. Activities are under way in 12 to 15 solid chapters and a broader community of between 5,000 and 6,000 people who contribute research notes based on the work that they're doing or participate in one of the many mailing lists that Public Lab maintains.
Public Lab lists scores of DIY citizen projects on its extensive community populated Wiki website. For instance, in Philadelphia, geographers are mapping to visualize and document community events and gatherings in parks and plazas throughout the city. In Southeast Chicago, in an old steel mill industrial area, massive piles of 'petcoke' or petroleum coke waste from Canada, are accumulating. Activists and media outlets such as NPR and Vice News have reported on the piles and the possible health hazards. With Public Lab training, the community is documenting the petcoke piles, mapping them and discussing ways to estimate their volume as well as monitor air quality around them. In June, Public Lab will be hosting a Chicago "barn raising" to mobilize community around the petcoke issue.
The belief that decisions about the environment belong to everyone is core to Public Lab's philosophy.
The non-profit creates space for different types of expertise — from scientists associated with a research institute to community organizers to community educators.  "We're interested in creating a place where people can bring their different experiences and backgrounds and think through processes together," Dosemagen says.
This culture springs from the unique perspectives of the seven co-founders of Public Lab. The founders include an environmental organizer, a professional cryptographer, a biologist, an urban designer, another designer and two anthropologists, including Dosemagen. Dosemagen says her training as an anthropologist brings listening and analytical skills that help her understand how to make connections across different groups of people.
"We're connecting on a different front with the much broader concept of climate change in terms of what it means," Dosemagen says. It's not big data, it's local data, observing the impact from a very local level.
Historically, most tools used to research the environment are created at a price point that's accessible for research institutions, corporations and government. Few tools have existed that allow people in a community to investigate local environmental concerns.
Public Lab changes that by enabling ground up data-based research and communication from the people in a place to the local governments and the industries whose policies impact the environment.
That's a huge information gap that community members can fill. Activists, change agents, journalists are limited. They can't participate in every minute of an event. Public Lab puts the tools — the media platforms and devices — in the hands of the community. Using the tools, the communities can gather information and fill in the gaps.
The outcome could be a media campaign, interfacing with journalists or calling for a larger, systematic study of a certain area.
The annual conferences, or barn raisings, bring people together in the spirit of thinking through a problem and putting together a tool. The gatherings are "unconference" style, which is a flexible facilitation method that allows people to self-organize around the issues and activities they are most passionate about.
While good solid data can be collected by putting accessible tools into the hands of community, the tools themselves can become self-replicating and viral by providing hand drawn, illustrated guides on how to create them. Public Lab's video tutorials walk people through each step of the process of using them to collect data.
Open source licensing has fed into Public Lab's sudden growth.
"I've heard the word float around several times that using those licenses is infectious in terms of the way things are able to spread,"  Dosemagen says. "If a certain component of that hardware tool is not available they could locally source it and then share that information back with the community. So I think that's how the community really gains strength and momentum over the years."